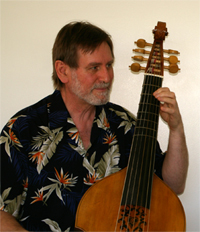 Peter Hallifax studied viol with Jane Ryan in London, while completing a Bachelor's degree in Music from the University of Surrey and a Master's degree in Musicology from the University of London, King's College.
In 1976 he moved to the Bay Area.  He was a founding member of Philharmonia Baroque Orchestra, and taught viol at U.C. Berkeley, U.C. Santa Cruz, and many workshops and seminars throughout the U.S., while maintaining an active concert career throughout the U.S. as a violist.
After a 20 year hiatus, he started playing again in 2005, concentrating at first on the music of Forqueray, Couperin, Marais, and Dollé.   More recently, he has been exploring English 17th-century music and the Bach sonatas.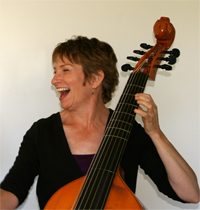 During her 32-year love affair with the viol, Julie Jeffrey has developed a career on the instrument which has taken her all over the world, performing, recording, teaching and inspiring enthusiasm for the viol.  At home in the San Francisco Bay Area, when she is not being half of Hallifax & Jeffrey, Ms. Jeffrey is a member of Sex Chordae Consort of Viols, and is the creative mastermind of the acclaimed trio Wildcat Viols.
Devoted to promoting all aspects of interest in her instrument, Ms. Jeffrey is a co-founder and active member of the Viola da Gamba Society, Pacifica Chapter, and currently serves on the board of directors of the Viola da Gamba Society of America.