THE MUSIC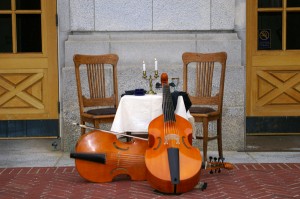 We're always exploring new music, but right now we play two main repertoires.  Within each, we have constructed many different programs.
The English Music
Legendary violists such as Jenkins, Lawes, and Simpson developed the lovely English viol music of the earlier part of the 17th century.  They called on a wide variety of styles: from dance music, consort fantasies, and division and lyra viol music.
These composers and their contemporaries such as Coprario, Alfonso Ferrabosco II, Hume, Locke, Young, and many others established England as the European center of the viol world of the time.  Their music reflects a period of revolution, experiment, and above all, invention
The French Music
From the end of the 17th century right up to the French revolution, the violists of the Bourbon courts (of Louis XIV, Louis XV, and  Louis XVI) generated the last great repertoire of music for the viol.  The "King of Instruments" reigned supreme as the string instrument of choice at court, until the violin family (louder, coarser, easier to play, and thus better suited to the newly-emerging orchestra) displaced it.
We play the decadent and passionate music of Francois Couperin, Louis Couperin, Corette, Dollé, Duphly, Forqueray, Marais, and Rameau, and are constantly adding new pieces and concerts to our list.